Imagine this scenario: You and your marketing team have just returned from a successful debut of your groundbreaking "Widget X" at this year's SXSW Interactive show, and your office is suddenly flooded with requests for consumer ready products. Retailers are clamoring for display samples, and you need to ramp up all facets of your business: Production, Sales, Distribution, Accounting, Customer Support, and Marketing. But where do you put staff? Your floor space is wide open and huge, but everyone cannot work together given their diverse responsibilities. The solution? Economical and highly configurable movable walls from IMT Modular Partitions Ltd.
IMT Modular Partitions Ltd. was founded more than a decade ago by Shay Sekler, interior construction specialist who had seen his fair share office space chaos thanks to fixed walls that offered limited functionality. After surveying the market, the two decided that a new design for movable walls was in order. Wood, glass, fabric, or chalkboard covered walls mounted on casters could be moved, they agreed, but did not offer privacy, foster a sense of openness, or seamlessly blend in with other furniture components or office decor. Worst of all, they broke down easily and were expensive to use because they could not be easily repaired — resulting in business owners buying one system after the other. So they came up with the IMT Wall, which debuted in Toronto at IIDEX 2002 and took home the prestigious Gold Award in the systems furniture category.
IMT's Movable Walls – 19 Miles and Counting
Since that time, IMT Modular Partitions Ltd. has sold and installed more than 100,000 linear feet of movable office partition walls throughout the North American market. To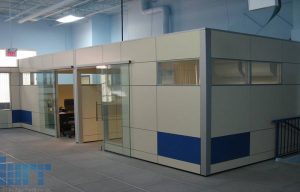 put that in perspective, all sections of the company's signature product — the IMT Wall — would stretch nearly 19 miles if lined up one next to the other.
Like any other product with thousands of satisfied customers, the IMT Wall has been a smashing success because it is made from high quality materials to exacting standards, and is extremely configurable so it fits in with any style. The company's movable partition walls also can be integrated into furniture and modular systems from other manufacturers, giving business owners, office managers, and building superintendents even more flexibility in creating open and inviting work spaces.
Movable walls are the perfect option for an office environment with rapidly changing design or personnel needs. If you have a large conference room but often have meetings that bump up against one another, the best solution is to divide the space with reconfigurable partitions. The IMT Wall is a textbook example of the power of flexible designs. Each panel comes in different widths, from 12 to 48 inches wide in 6 inch increments, and 8 to 12 feet tall in either solid panels or panels that can accommodate doors. In either case, the width and height can be customized.
For more information, or to request a technical binder, contact IMT Modular Partitions Ltd. at 416-743-4513.