For more than a decade, IMT Modular Partitions Ltd. has been making and installing the highest quality and most cost effective modular office systems for thousands of customers in the North American market, as well as for clients in Europe and the Middle East. During that time, we have installed more than 100,000 linear feet of portable walls — the equivalent of nearly 19 miles.
Greater Sound Absorption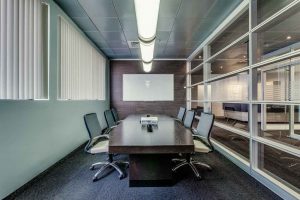 For years, one of the biggest advantages of standard drywall enclosures was the privacy afforded by thick walls that deadened sound, keeping it in or out. The ability of a structure to resist sound transmission is what is referred to as Sound Transmission Class (STC); the higher the number, the better the wall is at prohibiting sound from penetrating inside. If the sound on one side of a wall is 100 decibels, but drops to 60 on the other side, then its STC rating is 40. Our best modular office system features an STC rating of 43, which is the best in the industry.
Finishes and Simple Maintenance
Our solid modular office partitions come in 13 laminate finishes in three grades: 1 (White, Beige, Grey), 2 (Classic Maple, Classic Chocolate, Classic Cherry, Willow Grey, Hard Rock Maple), and 3 (Exotica, Urban Mahogany, Calamare, Latte, Stainless). Other cladding options are glass, veneer, tack boards, white boards, and accessory modules.
In most cases, clean up is as simple as using a wet cloth and mild soap or, for glass, using a quality glass cleaning product. It is important to follow care guidelines on the IMT wall and the cleaning product that you are using.
Key Features of our modular office solutions
The IMT Wall modular office dividers include many impressive features, among them:
94 percent of the materials used for making the wall systems come from post- consumer and industrial content.
Our laminate finish options can be coordinated with products from other manufacturers, including Nevamar, Wilson Art, Formica and Arborite.
Our product meets LEED certification for commercial interiors.
The IMT Wall meets ANSI/BIFMA X5.6-2003 standards.
Market Penetration
IMT Modular Partitions Ltd. is the market leader in high quality and modular office systems. Located in Ontario, we serve a wide range of customers in North America, as well as countries in Europe, the Middle East, and elsewhere. We have installed portable walls for companies such as Microsoft, Google, The Weather Network, The Canadian Institute of Chartered Accountants, The Royal Canadian Mounted Police, Service Canada, and many others in various business sectors including education, manufacturing, telecommunications, and banking, just to name a few.
Modular Design Options
All of our modular office systems are available in a wide range of configuration options that offer the most design flexibility of any portable wall on the market today:
Full
Duo
Symmetrical
Trio
Work Surface
Upper
Partial Door
Full Door
Contact us today at 416-743-4513 and request more information about our modular office systems.